Specialty Aquatic Tile Cleaning Now Servicing Bel Air!

Pool Tile Cleaning Near Me. No matter what level of calcification, we remove all the white stuff!

Calcium Killer handles calcium removal, power washing, pool tile repair, and tile cleaning service for residential and commercial swimming pools in Bel Air, California. If you are looking for great value at reasonable costs near you, then search no more. Calcium Killer is here. We provide the most competitive price and outstanding professional services.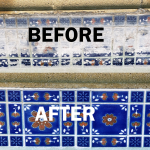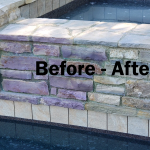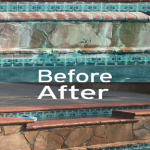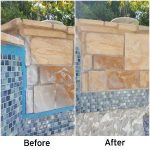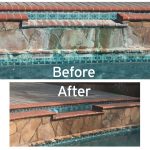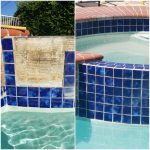 Are you tired of looking at dirty or stained pool tiles? Are you ready to take the necessary steps to keep your pool clean and hygienic for your family and guests? Look no further than Specialty Aquatic Tile Cleaning.
Our team of experienced and certified cleaners understands the importance of maintaining a clean and pristine pool, which is why we offer expert pool tile cleaning services in Bel Air.
In this blog post, we will cover everything you need to know about pool tile maintenance, why our services stand out, how our cleaning process works, tips on maintaining your pool tiles post-cleaning, and much more. We'll even answer frequently asked questions about professional pool tile cleaning.
So, if you're ready to book your pool tile cleaning service with us or simply want to learn more, call us.
Understanding Pool Tile Maintenance in Bel Air
Regular pool tile cleaning is crucial for preventing stains and grout buildup, maintaining the longevity of your pool tile, and enhancing its overall appearance. Our expertise in pool services, including plumbing and grout cleaning, ensures a thorough and effective maintenance approach. Trust our expert tips for proper pool tile care.
The Importance of Regular Pool Tile Cleaning
Regular pool tile cleaning is crucial for preventing the growth of algae and bacteria, avoiding mineral deposit buildup, ensuring a safe and hygienic swimming environment, extending the lifespan of your pool tile, and preserving the value of your pool investment. Trust our expertise in pool services to keep your pool tiles clean and well-maintained. Contact us now.
Why Choose Specialty Aquatic Tile Cleaning for Your Pool?
Specialty Aquatic Tile Cleaning is the perfect choice for your pool. With dedicated expertise in pool tile cleaning, we handle various tile materials efficiently. Our thorough process, high-quality materials, and exceptional service ensure your satisfaction. Choose us for pristine pool tiles.
Our Services and Expertise
At Specialty Aquatic Tile Cleaning, we offer specialized pool tile cleaning services in Bel Air. Our expert team can clean all types of pool tile surfaces, removing tough stains and grime. We also have the expertise to handle pool tile restoration projects, and we provide customizable cleaning solutions based on your specific needs. Trust us for professional pool tile cleaning.
Our Experience in Pool Tile Cleaning in Bel Air
With years of experience in the pool tile cleaning industry, our team in Bel Air has developed extensive knowledge and expertise in dealing with various types of pool tile issues. We have a proven track record of successful projects and are trusted by numerous satisfied customers. Our continuous improvement ensures we stay at the forefront of techniques and methods.
How does Specialty Aquatic Tile Cleaning Work?
Specialty Aquatic Tile Cleaning works through a thorough process. We start with an initial consultation and inspection to assess your pool tile's condition. Then, we create a tailored cleaning plan based on your pool's specific needs. Our professional and meticulous cleaning process, using safe and eco-friendly agents, ensures a pristine finish. Finally, we conduct a final inspection for quality assurance.
Initial Consultation and Inspection
Our initial consultation and inspection process involves a thorough assessment of your pool tile condition. We identify any underlying problems or damage and discuss your requirements and expectations. Based on this, we create a customized cleaning plan tailored to address your specific needs, providing you with a transparent and detailed explanation of the cleaning process.
Pool Tile Cleaning Process
Our pool tile cleaning process in Bel Air involves the thorough removal of dirt, grime, and mineral deposits from the surface. We use gentle scrubbing techniques to eliminate tough stains and buildup. After rinsing and drying, we inspect for any missed spots and apply a protective sealant for long-lasting results. Trust our expertise for pristine pool tiles.
What Makes Our Tile Cleaning Service Stand Out?
Our tile cleaning service stands out for several reasons. Firstly, we use high-quality cleaning materials and equipment to ensure effective and thorough cleaning. Secondly, our attention to detail guarantees outstanding results. Additionally, we provide exceptional customer service and offer a satisfaction guarantee. Our competitive pricing and transparent cost structure add to the value we provide.
Use of High-Quality Cleaning Materials and Equipment
At Specialty Aquatic Tile Cleaning, we pride ourselves on using industry-leading cleaning agents and state-of-the-art equipment. Our non-abrasive tools and techniques protect the integrity of your pool tile, while our eco-friendly cleaning solutions ensure the safety of your family and the environment. With our continual investment in the latest cleaning innovations, we guarantee superior results. Choose us for high-quality pool tile cleaning in Bel Air.
Trained, Experienced, and Certified Cleaners
Our team of highly trained and certified professionals at Specialty Aquatic Tile Cleaning in Bel Air, Maryland, is experienced in handling all types of pool tile cleaning tasks. We stay up-to-date with the latest cleaning techniques and technologies to deliver high-quality services that exceed customer expectations. Choose our certified cleaners for a thorough and efficient pool tile cleaning experience.
How Does Pool Smoke Damage Occur and How Can We Help?
Are you dealing with the aftermath of a nearby wildfire or burning debris that has caused smoke damage to your pool? Don't worry, our specialized techniques and equipment can remove soot, ash, and residues from your pool tiles. In the following sections, we'll discuss solutions to restore the beauty and functionality of your pool after smoke damage.
Causes of Pool Smoke Damage
Wildfires, burning debris, strong winds, fireworks, and controlled burns can cause pool smoke damage in Bel Air. Smoke particles and ash settle on pool tiles, affecting their composition. Understanding these causes helps us develop effective cleaning strategies to restore the beauty of your pool.
Our Approach to Pool Smoke Damage Cleanup
Our approach begins with a thorough assessment, using specialized solutions and equipment to remove soot and smoke residues. Attention to detail ensures all surfaces are thoroughly cleaned, including the grout lines. Following industry best practices, we aim to restore your pool tiles to their pre-smoke-damage condition.
How to Maintain Your Pool Tiles Post-Cleaning?
After a professional pool tile cleaning, it's important to maintain the cleanliness and longevity of your tiles. Regularly brush and vacuum them to prevent debris buildup. Use a mild cleaner and soft brush between cleanings. Consider using sealants or coatings for added protection. Monitor water chemistry to prevent scale buildup.
Tips and Tricks for Keeping Your Pool Tiles Clean
Regularly skimming the pool surface removes debris. Brush tiles weekly to prevent algae buildup. Use a pool tile cleaner to avoid damage. Avoid abrasive tools. Consider a pool cover when not in use. Our expertise ensures pristine pool tile cleaning in Bel Air. Contact us today for reliable pool services.
When Should You Call a Professional for Pool Tile Cleaning?
If stubborn stains or discoloration persist despite regular cleaning, it's time to call a professional for pool tile cleaning. When the grout deteriorates or becomes discolored, professional help is recommended. Special events or guests coming? A professional clean ensures your pool looks its best. Trust experts for delicate designs and overall longevity.
How Much Does Professional Pool Tile Cleaning Cost in Bel Air?
Are you in need of professional pool tile cleaning in Bel Air? Look no further! We offer competitive pricing and transparent services with no hidden fees. Our personalized quotes are based on factors such as pool size, cleaning requirements, and tile type. Read on to learn more about how we decide our prices.
Factors Influencing the Cost of Pool Tile Cleaning
The cost of pool tile cleaning in Bel Air depends on several factors, including:
The size of your pool

The level of dirt and staining on the tiles

The type of tiles

Any accessibility challenges
Contact us for an accurate cost estimate tailored to your specific requirements.
Is Professional Pool Tile Cleaning Necessary?
Maintain a hygienic swimming experience by opting for professional pool tile cleaning. Eliminate stubborn stains and buildup while preventing long-term damage and costly repairs. Ensure the removal of harmful bacteria and algae for a pristine pool appearance. Don't compromise on your pool's health and aesthetics; choose professional tile cleaning.
How Frequently Should I Get My Pool Tiles Cleaned Professionally?
The frequency of professional pool tile cleaning depends on factors like usage, climate, and maintenance. It is generally recommended to schedule a professional cleaning at least once a year. If you notice stains or discoloration, it's time for a cleaning. Regular maintenance can extend the lifespan of your pool tiles.
Maintaining clean pool tiles is crucial for a beautiful pool in Bel Air. Specialty Aquatic Tile Cleaning provides expert cleaning services using high-quality materials and equipment. Our trained team guarantees exceptional results. We also offer tips to keep your pool tiles clean and when to call for professional maintenance. Contact us today to book your appointment and enjoy a sparkling pool!
Pool Tile Cleaning Testimonial
Find out from our service recipients what kind of pool tiles cleaning service we provide. We are a 5 star rated service provider in our area.
Jeffrey Caldwell
2021-09-23
Joe and his team were great. On time, great work, great outcome, great value. Cleaned the tile and also did some great repairs. Pool looks like new. Should have had it done years ago it looks so great. You need to call him first for a first rate job. 5 Stars Jeff
Joe did an amazing job cleaning my fountain tiles. He was very careful with his work so that the tiles will not crumble and he was very thoughtful in making sure that the area was cleaned up before he left.
I sent pictures and dimensions of my pool to Joe and quickly received an estimate range. when I scheduled Joe was very responsive and showed up on time. We walked the pool and discussed the areas that I wanted particular attention given to. Joe's final price quote was right in the middle of his estimate range. The work was done before I got home from work and I was happy (my wife was even happier when she got home). It turned out better than we anticipated. A true case of under promise and over deliver! I am recommending Specialty Aquatic Tile Cleaning to my pool owner friends!
Oscar Castillo
2019-05-31
Joe provided the most competitive price and with great, professional service. Joe also helped replace my broken incandescent pool light with a new multicolored led light. My pool looks like new!
I stumbled across Joe on a web search and am very glad I did. Joe responded promptly to my request for information and ended up scheduling an appointment to come out and clean my tile. On the cleaning he did a fantastic job. Joe is very knowledgeable in this area and guided me clearly on what I needed. He is a really efficient and hard worker. I am impressed by the quality of his work. Joe's pricing is reasonable for the job completed. I will definitely be using his services again.
Bryan Robinson Jr.
2019-01-17
I was lucky enough to find a Joe a few months ago and he did an amazing job. Calling Joe at Specialty Aquatic was a Hail Mary before I bit the bullet and replaced my pool tile. I'm happy to say that he saved me thousands and gave my pool a new lease on life.
Joe does a fantastic job. Our pool had calcium buildup from over 10 years of use, his job was even more difficult because we had black tile around the edge of pool which shows everything, Joe took his time and did an amazing job, the tile came out looking really good. He was not in a rush and paided attention to the detail , he showed up on time and he gave us a very reasonable price. If you need your pool tile cleaned call Joe and you won't be disappointed.