Pool Tile Cleaning Services in Beverly Hills, California
Specialty Aquatic Tile Cleaning Now Servicing Beverly Hills!

Pool Tile Cleaning Near Me. No matter what level of calcification, we remove all the white stuff!

Pool Tile Cleaning Beverly Hills, California
Calcium Killer handles calcium removal, power washing, pool tile repair, and tile cleaning service for residential and commercial swimming pools in Beverly Hills, California. If you are looking for great value at reasonable costs near you, then search no more. Calcium Killer is here. We provide the most competitive price and outstanding professional services.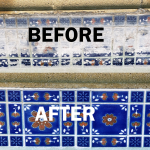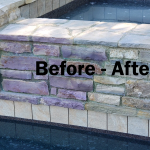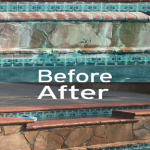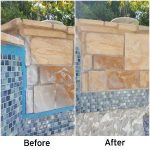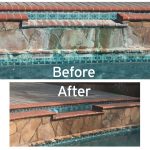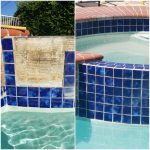 Specialty Aquatic Tile Cleaning Services is dedicated to providing you with the most effective and affordable cleaning solutions for your pool's glass mosaic tiles. With our dry soda blasting technique, we can easily remove tough stains and calcium buildup without causing any damage to your pool tiles. Our services also include smoke damage cleanup to restore your pool's beauty and longevity. We strive to offer high-quality service, convenient online booking, and expert tips to prevent buildup.
Licensed and insured, our pool cleaning technicians are trained and vetted to get the job done right. We bring our quality equipment in our branded van to the job site.
Our services include:
Calcium deposit removal
Power washing
Deck sealing
Tile repair
Tile cleaning service
Overview of our Specialty Aquatic Tile Cleaning Services in Beverly Hills, California
With our specialized tile cleaning services, we bring back the sparkle to pool and spa tiles in Beverly Hills, CA. Our experienced team uses advanced equipment and techniques to ensure effective and efficient cleaning. Every service is tailored to meet the unique needs of our customers, delivering exceptional results that make your pool tiles shine. Trust us for expert care of your pool.
The Process of Pool Tile Repair
Our pool tile repair process is thorough and efficient. We assess tile conditions and determine the best repair method. Skilled technicians use quality materials to fix cracks and replace damaged tiles, ensuring a seamless look. Trust us to restore your pool tiles' functionality and appearance.
Effective Techniques for Pool Tile Cleaning in Beverly Hills
Experience the power of our highly effective and efficient pool tile cleaning techniques. Our non-abrasive methods effortlessly remove stubborn stains and grime, while our environmentally friendly solutions keep your pool safe. With specialized equipment, we reach every corner of your tiles, leaving them spotless and looking brand new.
How to deal with Calcium Buildup on Pool Tiles
Dealing with calcium buildup on pool tiles is a common problem for pool owners in Beverly Hills, especially in Southern California. Our expertise lies in effectively removing stubborn calcium deposits without damaging the tiles. Our techniques dissolve and remove the buildup, leaving your pool tiles free from unsightly white stains. Let us provide you with recommendations to prevent future calcium buildup. Say goodbye to those stubborn stains with our help.
Expert Tips for Preventing Calcium Buildup
Maintaining the cleanliness and longevity of your pool tiles is essential. Regularly test and adjust the pH levels, use a sequestering agent to prevent calcium precipitation, and brush the tiles to minimize mineral accumulation. Consider using a water softener for reduced water hardness. Trust our experts for further advice.
What is Pool Smoke Damage?
Pool smoke damage refers to the negative impact of smoke on pool surfaces and equipment. It can leave residue, and discoloration, and affect the filtration system and water quality. Prompt cleanup and restoration are crucial to prevent further damage. Our expertise lies in comprehensive pool smoke damage cleanup services.
Our Comprehensive Pool Tile Fire Damage Cleanup Service
With our team's training in handling pool smoke damage cleanup in Beverly Hills, we can assess the extent of the damage and develop a customized restoration plan. Using specialized techniques and equipment, we efficiently remove smoke residue from pool tiles while also cleaning and repairing affected pool equipment. Trust us to efficiently restore your pool to its pre-smoke condition.
Why is Beverly Hills trusting us for their Pool Cleaning Needs?
Beverly Hills trusts us for their pool cleaning needs because of our expertise and track record of excellence. Our services guarantee sparkling clean and healthy pools, handled with professionalism. Choose us for reliable and efficient pool cleaning in Beverly Hills.
Our Commitment to Quality and Customer Satisfaction
At our pool cleaning services in Beverly Hills, we are dedicated to delivering exceptional quality and ensuring customer satisfaction. With a focus on exceeding your expectations, we take pride in providing top-notch pool cleaning services. Trust us to go above and beyond to keep your pool sparkling clean and healthy.
Scheduling Your Pool Cleaning Service with us
Schedule your pool cleaning service in Beverly Hills with ease using our convenient online booking system. Contact us today and take advantage of our flexible scheduling options. Trust us to accommodate your preferred date and time, making the process hassle-free. Get your pool sparkling clean in no time!
The Benefits of Regular Pool Maintenance
Regular pool maintenance in Beverly Hills ensures a long-lasting and visually appealing swimming pool. Invest in professional pool maintenance services for a safe and enjoyable experience. Prevent costly repairs with regular upkeep and maintain the value of your pool deck. Trust us to keep your pool in optimal condition for peace of mind.
Maintaining the Longevity and Aesthetics of your Pool
Regular maintenance of your pool is crucial for both its longevity and aesthetics. By investing in pool maintenance services, you can prevent deterioration and damage, ensuring the long-term beauty and functionality of your pool. Preserve its inviting and clean appearance with proper care.
What sets us apart from other Pool Cleaning Services in Beverly Hills, CA?
Our meticulous attention to detail, advanced techniques, and superior equipment set us apart from other pool cleaning services in Beverly Hills. Our experienced technicians can handle any pool cleaning challenge, offering personalized solutions tailored to your specific needs. Experience exceptional customer service and reliable pool cleaning with us.
How often should you schedule a Pool Tile Cleaning service?
Regular pool tile cleaning in Beverly Hills is necessary to prevent the buildup of calcium and other contaminants. We recommend scheduling a professional pool tile cleaning service every 6-12 months, depending on factors like usage and environmental conditions. Our experts can assess your pool's needs and provide you with the ideal frequency for pool tile cleaning. Contact us today to discuss your pool tile cleaning schedule.
Contact Us Today for Your Pool Cleaning Needs
Experience top-notch pool cleaning services in Beverly Hills. Our knowledgeable staff is ready to assist you with any inquiries. Reach out to us now for a sparkling clean pool. Let our friendly team take care of your requirements. Apart from Beverly Hills, you can contact us if you live in Los Angeles, California, including the following areas:
Studio City

Century City

Sherman Oaks

San Fernando Valley

Burbank

Calabasas

Encino

Santa Monica

Hollywood
Experience excellent customer service from our skilled staff members. Trust our friendly team to answer all your pool cleaning questions and provide expert advice. Our staff is dedicated to ensuring your satisfaction, so you can rely on us for all your pool service needs in Beverly Hills.
What can you do to keep your pool sparkling clean between services?
To keep your pool tiles in Beverly Hills sparkling clean between services, here are some tips to follow:
Regularly check and maintain the pH level of your pool water.

Remove debris and leaves from the surface regularly.

Use pool care products to prevent calcium buildup on your tiles.

Ensure proper filtration and circulation.

Don't forget to brush the walls and floor regularly to prevent algae growth.

Check for leaks and fix them promptly to avoid water damage and further issues.
By following these simple steps, you can prolong the cleanliness of your pool tiles and maintain a sparkling pool in between professional cleaning services.
Our pool cleaning services in Beverly Hills are designed to keep your pool tiles sparkling clean and well-maintained. Regular pool tile cleaning is crucial to maintain the aesthetics and longevity of your pool. We pride ourselves on using effective techniques and high-quality equipment and products for the best results.
Our expert team is experienced in dealing with calcium buildup and even pool smoke damage, offering comprehensive cleanup services. We are trusted by the community in Beverly Hills for our commitment to quality and customer satisfaction. From convenient online booking to testimonials from satisfied customers, we strive to provide a seamless experience.
Get in touch with our friendly and knowledgeable staff for any inquiries or to book your appointment. Remember, regular maintenance and our professional services are key to keeping your pool in top condition.
Pool Tile Cleaning Testimonial
Find out from our service recipients what kind of pool tiles cleaning service we provide. We are a 5 star rated service provider in our area.
Jeffrey Caldwell
2021-09-23
Joe and his team were great. On time, great work, great outcome, great value. Cleaned the tile and also did some great repairs. Pool looks like new. Should have had it done years ago it looks so great. You need to call him first for a first rate job. 5 Stars Jeff
Joe did an amazing job cleaning my fountain tiles. He was very careful with his work so that the tiles will not crumble and he was very thoughtful in making sure that the area was cleaned up before he left.
I sent pictures and dimensions of my pool to Joe and quickly received an estimate range. when I scheduled Joe was very responsive and showed up on time. We walked the pool and discussed the areas that I wanted particular attention given to. Joe's final price quote was right in the middle of his estimate range. The work was done before I got home from work and I was happy (my wife was even happier when she got home). It turned out better than we anticipated. A true case of under promise and over deliver! I am recommending Specialty Aquatic Tile Cleaning to my pool owner friends!
Oscar Castillo
2019-05-31
Joe provided the most competitive price and with great, professional service. Joe also helped replace my broken incandescent pool light with a new multicolored led light. My pool looks like new!
I stumbled across Joe on a web search and am very glad I did. Joe responded promptly to my request for information and ended up scheduling an appointment to come out and clean my tile. On the cleaning he did a fantastic job. Joe is very knowledgeable in this area and guided me clearly on what I needed. He is a really efficient and hard worker. I am impressed by the quality of his work. Joe's pricing is reasonable for the job completed. I will definitely be using his services again.
Bryan Robinson Jr.
2019-01-17
I was lucky enough to find a Joe a few months ago and he did an amazing job. Calling Joe at Specialty Aquatic was a Hail Mary before I bit the bullet and replaced my pool tile. I'm happy to say that he saved me thousands and gave my pool a new lease on life.
Joe does a fantastic job. Our pool had calcium buildup from over 10 years of use, his job was even more difficult because we had black tile around the edge of pool which shows everything, Joe took his time and did an amazing job, the tile came out looking really good. He was not in a rush and paided attention to the detail , he showed up on time and he gave us a very reasonable price. If you need your pool tile cleaned call Joe and you won't be disappointed.