Specialty Aquatic Tile Cleaning
We Specialize in Pool Tile Cleaning.
No matter what level of calcification, we will make your pool look Great. Guaranteed…..
Specialty Aquatic Tile Cleaning
We Specialize in Pool Tile Cleaning.
No matter what level of calcification, we will make your pool look Great. Guaranteed…..
Aquatic Calcium Cleaner Expert
I specialize in calcium removal for pool tile cleaning and outdoor surfaces that are prone to hard water stains and stubborn calcium deposits. This includes not only pool tile but fountains and other water features. My services also extend to tile repair, deck staining and sealing, as well as plaster repairs and patching for pools.
While not a pool service company I am able to offer acid washes for customers who want to brighten up their plaster or remove stains.
The white buildup on your pool tile or favorite water fixture is most likely calcium buildup and yes it can be cleaned safely and without chemicals. This is a common problem especially with the hard water we have here in southern California.
In addition to tile cleaning I also offer an annual pool maintenance service contract that consists of maintenance and cleanings to keep your tile looking its best. Regular cleaning can help combat the long term effect of calcium buildup and lower the cost associated with excessive buildup.
Tile repairs range from fallen tile to replacing missing tile.  If a tile is missing or broken beyond repair I can help you find and install a suitable replacement.
I also offer a pool rehab/makeover special which includes a pool drain, acid wash for your plaster, startup chemicals, and tile cleaning.  This service can literally save you thousands of dollars when compared to the cost of new plaster and new tile.
At the end of the day I do a thorough cleaning and try to leave your pool area in better condition than when I arrived.
Pool Tile Cleaning Testimonial
Find out from our service recipients what kind of pool tiles cleaning service we provide. We are a 5 star rated service provider in our area.
Jeffrey Caldwell
2021-09-23
Joe and his team were great. On time, great work, great outcome, great value. Cleaned the tile and also did some great repairs. Pool looks like new. Should have had it done years ago it looks so great. You need to call him first for a first rate job. 5 Stars Jeff
Joe did an amazing job cleaning my fountain tiles. He was very careful with his work so that the tiles will not crumble and he was very thoughtful in making sure that the area was cleaned up before he left.
I sent pictures and dimensions of my pool to Joe and quickly received an estimate range. when I scheduled Joe was very responsive and showed up on time. We walked the pool and discussed the areas that I wanted particular attention given to. Joe's final price quote was right in the middle of his estimate range. The work was done before I got home from work and I was happy (my wife was even happier when she got home). It turned out better than we anticipated. A true case of under promise and over deliver! I am recommending Specialty Aquatic Tile Cleaning to my pool owner friends!
Oscar Castillo
2019-05-31
Joe provided the most competitive price and with great, professional service. Joe also helped replace my broken incandescent pool light with a new multicolored led light. My pool looks like new!
I stumbled across Joe on a web search and am very glad I did. Joe responded promptly to my request for information and ended up scheduling an appointment to come out and clean my tile. On the cleaning he did a fantastic job. Joe is very knowledgeable in this area and guided me clearly on what I needed. He is a really efficient and hard worker. I am impressed by the quality of his work. Joe's pricing is reasonable for the job completed. I will definitely be using his services again.
Bryan Robinson Jr.
2019-01-17
I was lucky enough to find a Joe a few months ago and he did an amazing job. Calling Joe at Specialty Aquatic was a Hail Mary before I bit the bullet and replaced my pool tile. I'm happy to say that he saved me thousands and gave my pool a new lease on life.
Joe does a fantastic job. Our pool had calcium buildup from over 10 years of use, his job was even more difficult because we had black tile around the edge of pool which shows everything, Joe took his time and did an amazing job, the tile came out looking really good. He was not in a rush and paided attention to the detail , he showed up on time and he gave us a very reasonable price. If you need your pool tile cleaned call Joe and you won't be disappointed.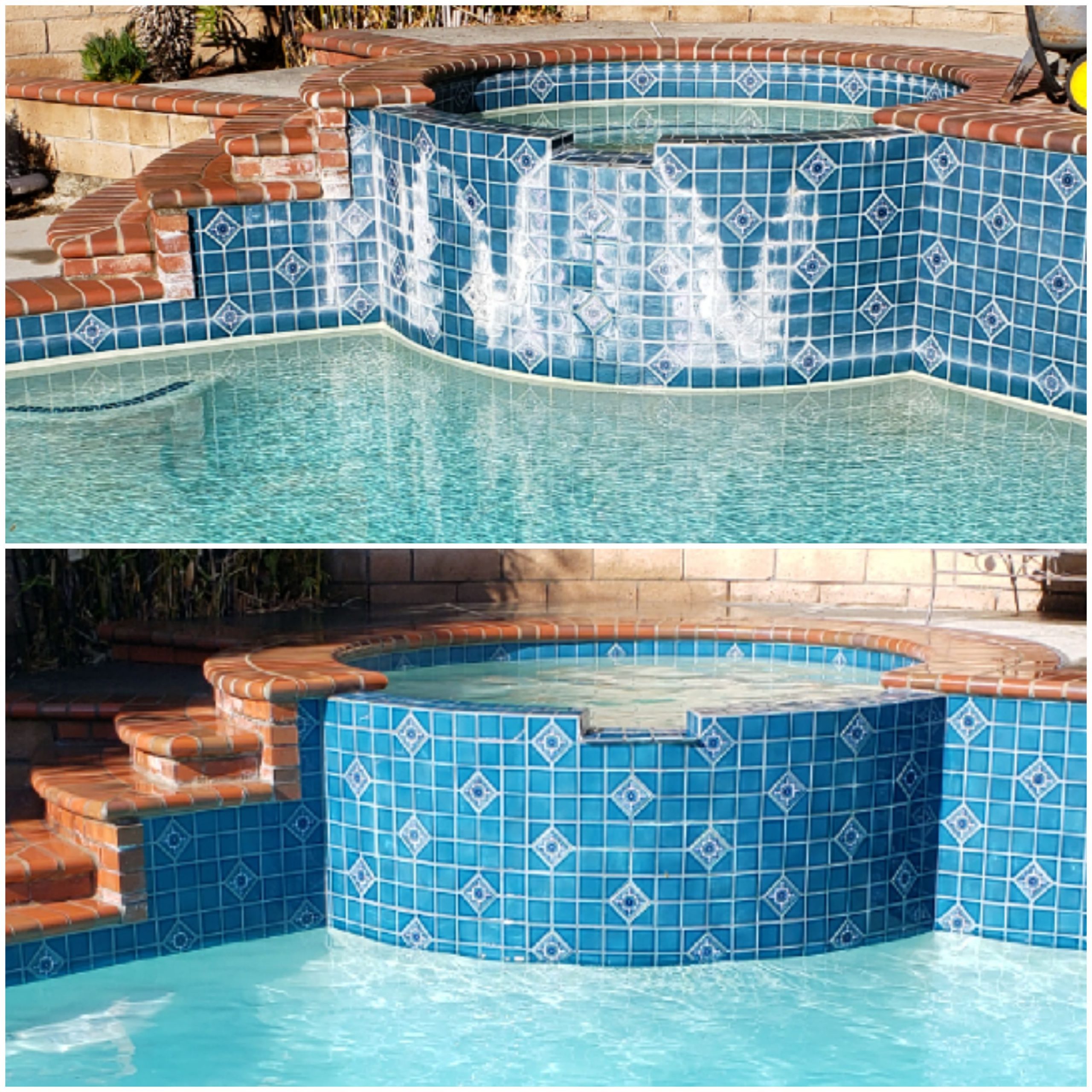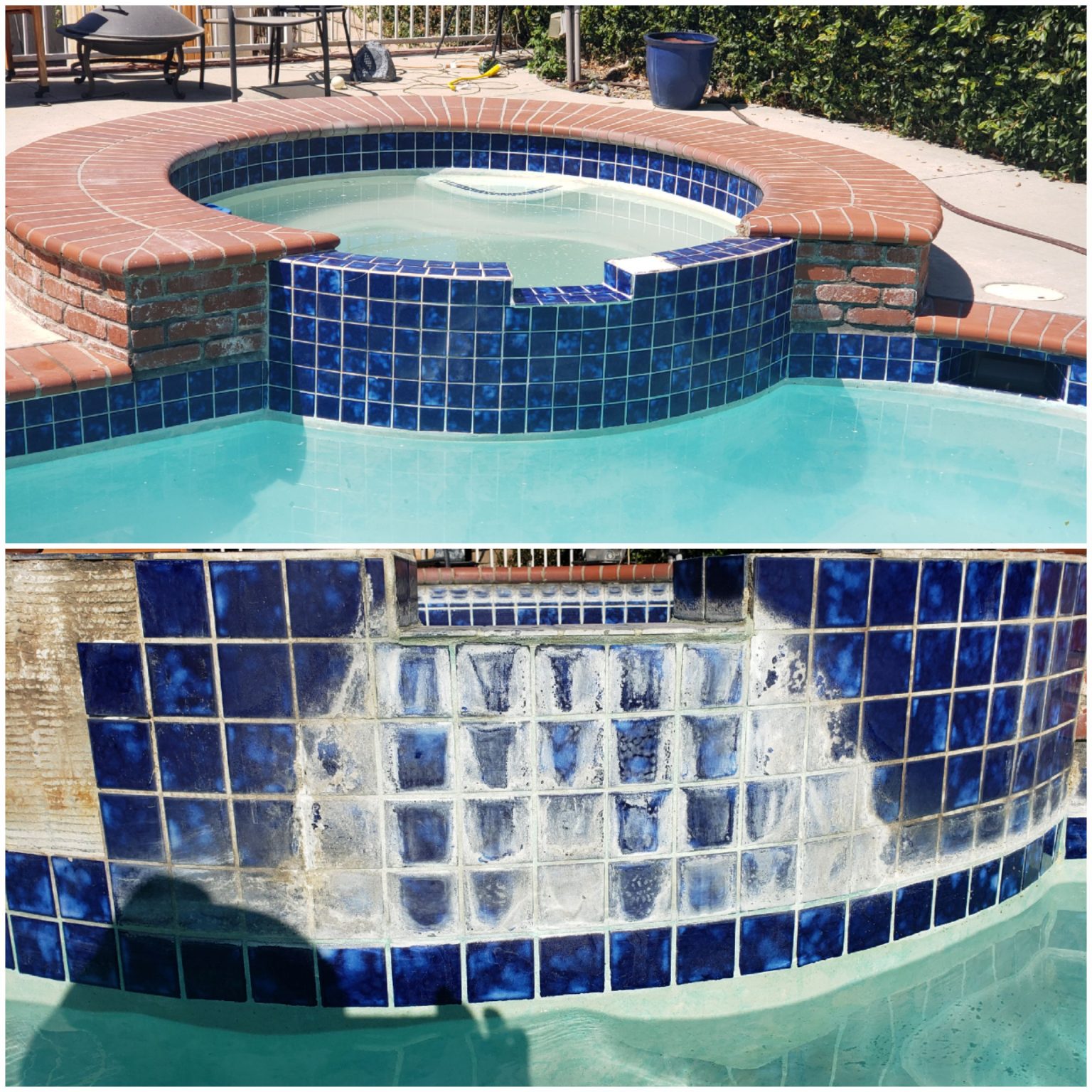 Specialty aquatic tile cleaning utilizes a system for removing calcium deposits quickly and inexpensively. Tiny pellets are shot against the deposits under pressure, eliminating the calcium without harming the delicate tile. The calcium debris and small pellets settle to the bottom of the pool and are removed by a vacuum. An average-sized home swimming pool takes only four hours to clean and is just a fraction of the cost of replacing tile. We do not just clean pool tile, we also offer a professional grout cleaning service. Our grout cleaning service uses our proprietary hot water extraction cleaning method to clean out the hidden dirt and restore the luster to your floors. In addition, we'll remove 96.5% of allergens from your grout. Our pressure washer can clean walkways, cool decking, grime, porous material stain, and much more. If you do not want to work with heavy-duty cleaners, it may be time to consult a pool maintenance company that can help clean the tile with a high-pressure soda blast. On average, getting your pool cleaned regularly costs about $150 a month. If you notice chipping or cracks, it might be best to call a pool tiling professional or pool installation company to replace or repair those tiles.
At Specialty aquatic tile cleaning Savers, we promise our customers the following:
Swimming Pool Tile Cleaning
Each pool job is bid individually. All pools are different shapes and sizes. Some require more/less time depending on the level of calcium. 
We are always happy to offer you a FREE SERVICE ESTIMATES
When you want that calcium deposit gone - Give us a call!
Welcome Specialty aquatic tile cleaning is your one-stop professional swimming pool tiles cleaning company fully licensed by the State of California and insured. Having been in the swimming pool industry since 1998, we have the experience and equipment to handle any size project.
We specialize in cleaning pool tiles, acid washing pools, fixing broken and loose pool tiles with the highest quality. We have designed the very equipment that has revolutionized the pool tile cleaning industry and have our own private labeled chemical that inhibits calcium formation on pool tiles, including limestone, after our cleaning process. Our Tile and Grout Cleaning Process guarantees the safest, highest quality outcome for your specific types of stone, tile, or grout surfaces in California. Call us today for a free estimate.
Swimming Pool Tile Cleaning
Over time, tanning lotions and body oils can build up on tile and stone, creating a scum line in the swimming pool and spa. Calcium can also build up. Starting as a mild haze or water line, it can eventually become a thick scale covering the entire tile surface, including the waterline tiles. The more calcium that builds up, the more unattractive it becomes. To achieve a deeper clean, make sure to ask about our pressure washer service! This service includes using hot water to break down and remove the stubborn scum and calcium buildup, leaving your swimming pool tiles, including the waterline tiles, looking sparkling clean.
My goal is to provide my customers with quality services and a great experience.  I take pride in my work and always aim to please my customers in every way possible. As part of my service to you, you will always work with me.  I look forward in being able to work directly with my customers during all stages of service.
Swimming Pool Tile Cleaning | Calcium Cleaning | Cleaning Pool Tile Services
 Just One Call To The Pool Tile Cleaner Pro Get's The White Stuff GONE!
Pool Tile Cleaning
There are several ways of cleaning your pool tile however not all of them are safe for your tiles. If you have glass tile you want to be extra careful. The biggest mistake is using the pool store recommended pumice stone.
For starters it will cause lots of micro scratches and etching. It will look fine once you raise the water back up however the next time the calcium comes back it will root itself to the tile that much more aggressively because of the micro scratches.
Another method is doing an acid wash with muriatic acid. This method can be very dangerous because you are working with a corrosive chemical and the smell is also harmful if inhaled directly. This method still requires knowledge of the chemical as well as safety gear and lots of scrubbing still. However, for a safer and more effective alternative, you can try mixing a mild detergent with a gallon of water in a large bucket and mop the swimming pool tiles. This solution, along with carefully applied bleach, will help to remove dirt, grime, and calcium build-up from your swimming pool tiles without the risks associated with using harsh chemicals.
Glass bead blasting is a decent alternative as well but only for ceramic tile or stone cleaning. This method requires precision and knowledge of pressure regulation. If not done properly it will lead to burning the color off tile which is irreversible damage.
Other people have been known to claim that glass bead can clean your glass tile, but this method can actually cause damage to the tile. It is important to avoid using harsh chemicals when cleaning your tile, as they can weaken and damage the grout. Instead, consider using alternative methods such as soda blasting, which can effectively clean tile, glass tile, stone, and brick without causing any damage. Soda blasting is a safe and effective option for removing light build-ups, but for more stubborn or long-standing stains, a stronger solution such as abrasive cleaners may be required. Another advantage of soda blasting is the ability to reclaim the spent media to be used again in the blast pot, saving the contractor money.
Pool tile cleaning is billed by the linear foot. However, there are times that I have to charge by the square foot.  This is for pools with excessive buildup and by no means is this the norm. Spillways and infinity walls are not part of a normal tile cleaning and will be quoted in addition to normal charge. Call today for an estimate.
Pool Tile Repair
One of our professional services we excel at is tile repair. We do the jobs that the big companies are not interested in. We are able to fix cracked tiles or tiles that fell off due to old age and wear n tear.
Some tile issues are as simple as replacing the fallen or missing tile. We can fix the tile and re-grout the area using contractor grade sanded and non-sanded grout. We can also just repair or re-grout areas needing help. Doing this can keep your tile from getting water and debris behind it, which will cause major issues that can get expensive. Additionally, after the cleaning process, you will have the option to have sealants applied to create a barrier that keeps grime out and allows for easy maintenance. Adding a sealer to your grout, similar to what is done after a professional Zerorez cleaning, will increase its resistance to dirt, spills, and stains. The sealer fills the porous areas and makes future cleaning easier.
Tile can fall off or crack for many reason but the primary problem is a crack in the tile bond beam which is behind the tile. If this is cracked or damaged because of roots earthquake or just settling over time and the weight of your deck and or coping. These repairs are more expensive and far more time consuming. It is still far cheaper to repair than to demo and rebuild.
We also can repair cracked or broken natural stone around the exterior of the home like brick paver or stone paver man made and natural. We unfortunately do not service tile repair inside homes or bathrooms.
We can also fix leaks in fountains and around skimmers. So whether its one tile or multiple tiles please don't hesitate to ask and see if we can help.
We use only contractor grade adhesives and grouts for our tile repairs.
If you have tile that has fallen off, chipped, or discolored I can help you with a replacement/repair.  Call today for an estimate.
Pool Makeover / Rehab Special
If your pool is discolored and needs a new lease on life give me a call and we can discuss a deep clean.  This would include a complete drain of your pool, acid wash to clean the plaster, and calcium removal from the tile. Like with all my services price depend on the size of the pool. Call today for an estimate.
How often should you clean your pool tiles?
Pool tiles should be cleaned at least once a year to prevent buildup of algae, dirt, and mineral deposits. However, for pools that are used frequently or located in areas with high levels of debris or hard water, more frequent cleanings may be necessary.
Accessibility
If you have a pool or water feature that isn't easily accessible an extra charge will be incurred.  Extra charges like this will be discussed at the beginning of the job and are the exception to the rule.
Out of range job
Free estimates within 35 miles.  Jobs outside our 35 mile range will be handled electronically, and on the rare case that I need to come out for an estimate a $50 charge will be incurred if the job is not serviced on that day.
Helpful Pool Cleaning and Calcium Build Tips
DIY Calcium Removal Blogs
Follow our blog for different calcium build up removal techniques and pool tile maintenance and clean information.