Pool Tile Cleaning Services in Palm Springs, California
Specialty Aquatic Tile Cleaning Now Servicing Palm Springs!

Pool Tile Cleaning Near Me. No matter what level of calcification, we remove all the white stuff!

Pool Tile Cleaning Palm Springs, California
Calcium Killer handles calcium removal, power washing, pool tile repair, and tile cleaning service for residential and commercial swimming pools in Palm Springs, California. If you are looking for great value at reasonable costs near you, then search no more. Calcium Killer is here. We provide the most competitive price and outstanding professional services.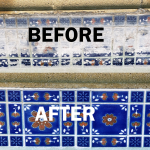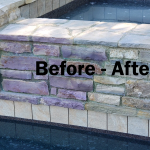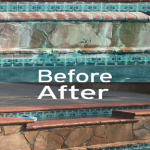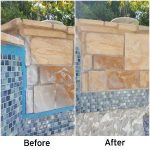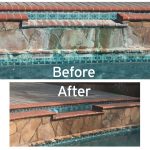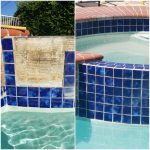 Our professional pool services are available in Palm Springs, California. And we've gained more than enough experience and expertise to handle pool cleaning quickly and effectively, to your maximum satisfaction.
Licensed and insured, our pool cleaning technicians are trained and vetted to get the job done right. We bring our quality equipment in our branded van to the job site.
Our services include:
Calcium deposit removal
Power washing
Deck sealing
Tile repair
Tile cleaning service
Calcium Deposit Removal in Palm Springs
Calcium deposits are those white substances that gradually build up on your pool tile or your favorite pool body. You can't have a clean pool or a clean water body when your tile is infested with calcium deposits. Among all the problematic stains you stand to face on your pool tile and the tile on other water bodies, calcium deposits are the most popular.
It's popularly known for its stubbornness and resilience. There are various proven methods to get rid of those white, annoying substances. But each of these methods needs guidance. Let the experts do it.
Power Washing in Palm Springs
Power washing, also known as pressure washing, can be the only solution your pool needs to be restored. The water pressure that leaves the nozzle washes off stains. The operation might seem easy-peasy but in reality, poses a lot of risk to the facility.
Let's tell you how: There's a level of pressure that will hit your tile and damage it. It might not damage it at that instant, but continuous water blasts can cause unimaginable harm to your facility.
In the hands of an inexperienced user, a pressure washer is a weapon of destruction. In the right hands, it's tremendously good cleaning equipment. We are the right hands. We know how to use it to clean your pool without damage.
Deck Sealing in Palm Springs
The area that surrounds your pool is called a pool deck. Because it's usually exposed to UV light, traffic, and water, it deteriorates pretty quickly. To keep it lasting long and stay beautiful, we advise our customers to make sure it is always properly sealed as a measure to keep it in its best condition.
There are so many deck sealers in the market today. Calcium Killer knows the one that is best suited for your tour deck material. Not just that, we know the best way to seal your deck to keep it at its best for a longer time.
Tile Repair Company Palm Springs
Tile repair can be a pain on the side if you aren't properly equipped with the right information and proper equipment. Your tile is exposed to a lot of menaces and can get damaged by different elements. After all, water isn't always friendly.
The solution to a damaged tile isn't always a new tile. You can save a lot by fixing your tile rather than replacing it. The best part of this is that you can fix your pool tile without leaving traces of it being fixed. It's completely safe, economical, and unnoticeable. Calcium Killer has what it takes to fix your pool to perfection.
Tile Cleaning Service in Palm Springs
It's natural for your pool tile to get dirty. But when it does, it's your responsibility to clean it up. While there are DIY techniques to get your pool looking like it never got stained, it's not always effective for stubborn stains. Some of these stains require professional methods to get them off your tile.
Calcium Killer, being experienced in this for years, has come across various stubborn stains and has gained the experience to get rid of them. No matter the level at which your pool tile has deteriorated, we can restore it. Pool restoration is our specialization. And we have been restoring pools in Palm Springs, California.
Calcium Killer Service Areas
Handling your pool is a pleasure to us and a satisfaction to you. It's a complete win-win. All you have to do is to send us pictures and dimensions of your pool or water facility. You'll receive an estimated range from us in no time. When we arrange a schedule, we keep to it and get to your place right on time. That's because we are close to you.
Our pool tile cleaning and calcium removal services are now available in Palm Springs, CA, as well as the Duarte area in California. We give free estimates for locations within 35 miles.
Pool Tile Cleaning Testimonial
Find out from our service recipients what kind of pool tiles cleaning service we provide. We are a 5 star rated service provider in our area.
Jeffrey Caldwell
2021-09-23
Joe and his team were great. On time, great work, great outcome, great value. Cleaned the tile and also did some great repairs. Pool looks like new. Should have had it done years ago it looks so great. You need to call him first for a first rate job. 5 Stars Jeff
Joe did an amazing job cleaning my fountain tiles. He was very careful with his work so that the tiles will not crumble and he was very thoughtful in making sure that the area was cleaned up before he left.
I sent pictures and dimensions of my pool to Joe and quickly received an estimate range. when I scheduled Joe was very responsive and showed up on time. We walked the pool and discussed the areas that I wanted particular attention given to. Joe's final price quote was right in the middle of his estimate range. The work was done before I got home from work and I was happy (my wife was even happier when she got home). It turned out better than we anticipated. A true case of under promise and over deliver! I am recommending Specialty Aquatic Tile Cleaning to my pool owner friends!
Oscar Castillo
2019-05-31
Joe provided the most competitive price and with great, professional service. Joe also helped replace my broken incandescent pool light with a new multicolored led light. My pool looks like new!
I stumbled across Joe on a web search and am very glad I did. Joe responded promptly to my request for information and ended up scheduling an appointment to come out and clean my tile. On the cleaning he did a fantastic job. Joe is very knowledgeable in this area and guided me clearly on what I needed. He is a really efficient and hard worker. I am impressed by the quality of his work. Joe's pricing is reasonable for the job completed. I will definitely be using his services again.
Bryan Robinson Jr.
2019-01-17
I was lucky enough to find a Joe a few months ago and he did an amazing job. Calling Joe at Specialty Aquatic was a Hail Mary before I bit the bullet and replaced my pool tile. I'm happy to say that he saved me thousands and gave my pool a new lease on life.
Joe does a fantastic job. Our pool had calcium buildup from over 10 years of use, his job was even more difficult because we had black tile around the edge of pool which shows everything, Joe took his time and did an amazing job, the tile came out looking really good. He was not in a rush and paided attention to the detail , he showed up on time and he gave us a very reasonable price. If you need your pool tile cleaned call Joe and you won't be disappointed.