Swimming pools—like most other things you own—require regular maintenance to serve you in the best way. A poorly maintained pool can be healthy and get ugly to look at. Pool tiles, for one, can start getting dirty and piling up with ugly slimy residue and dirt if you don't maintain it.
In this blog post, we'll show you what you can do to avoid getting your pool tiles in that condition. We'll show you how to clean grime from your pool tiles and give you an option to avoid all the hard work.
Let's Begin
For cleaning your tile joints, mix 1/3 liter of dishwashing liquid in a liter of hot water. Rub vigorously and rinse.
Besides commercially available household cleaning products, there are several natural and affordable solutions to whiten your tile joints.
Bathroom, kitchen… Over time, grease residues, mold, and yellow stains can appear on the tile joints. To overcome this dirt and restore its shine to your joints without getting tired, there are natural tips to test without hesitation.
How to clean the tile joints?
Before cleaning the joints, first, wash the tiles around them. If they are dirty, the seals will be too. Then, to clean the tile joints you can recycle an old toothbrush which you will use as a joint brush. On the product side, you have many possibilities: white vinegar works miracles in the house, claystone, and Meudon white are very effective at cleaning joints. Black soap cleans thoroughly.
To use these natural products, soak a sponge of warm water and do not hesitate to scrub the dirtiest parts well.
What products should I avoid when cleaning tile joints?
To properly clean the tile joints, avoid using a steam cleaner repeatedly. This could take off the tiles. In the same way, forget about bleach and acid, these products toxic to health and the environment, wear out the seals, and can damage the seal. Water could then infiltrate and cause the tiles to peel off.
Which product should you use to whiten tile joints?
Weather and humidity damage the tile joints, which will then be stained and blackened. This is quite unsightly and gives the impression that the tiles are dirty and old. To whiten the joints, a miracle and natural product can be used: baking soda! Add with white vinegar and washing up liquid, the baking soda will allow you to whiten the tile joints naturally. Let this mixture sit for a few minutes on the joints before rubbing with a brush. They will then be white as on the first day!
But what if you don't want to do this yourself?
Hire the services of a professional pool cleaner near you. We offer a vast array of services to keep your pool in tip-top condition, healthy and pleasurable to take a dive in.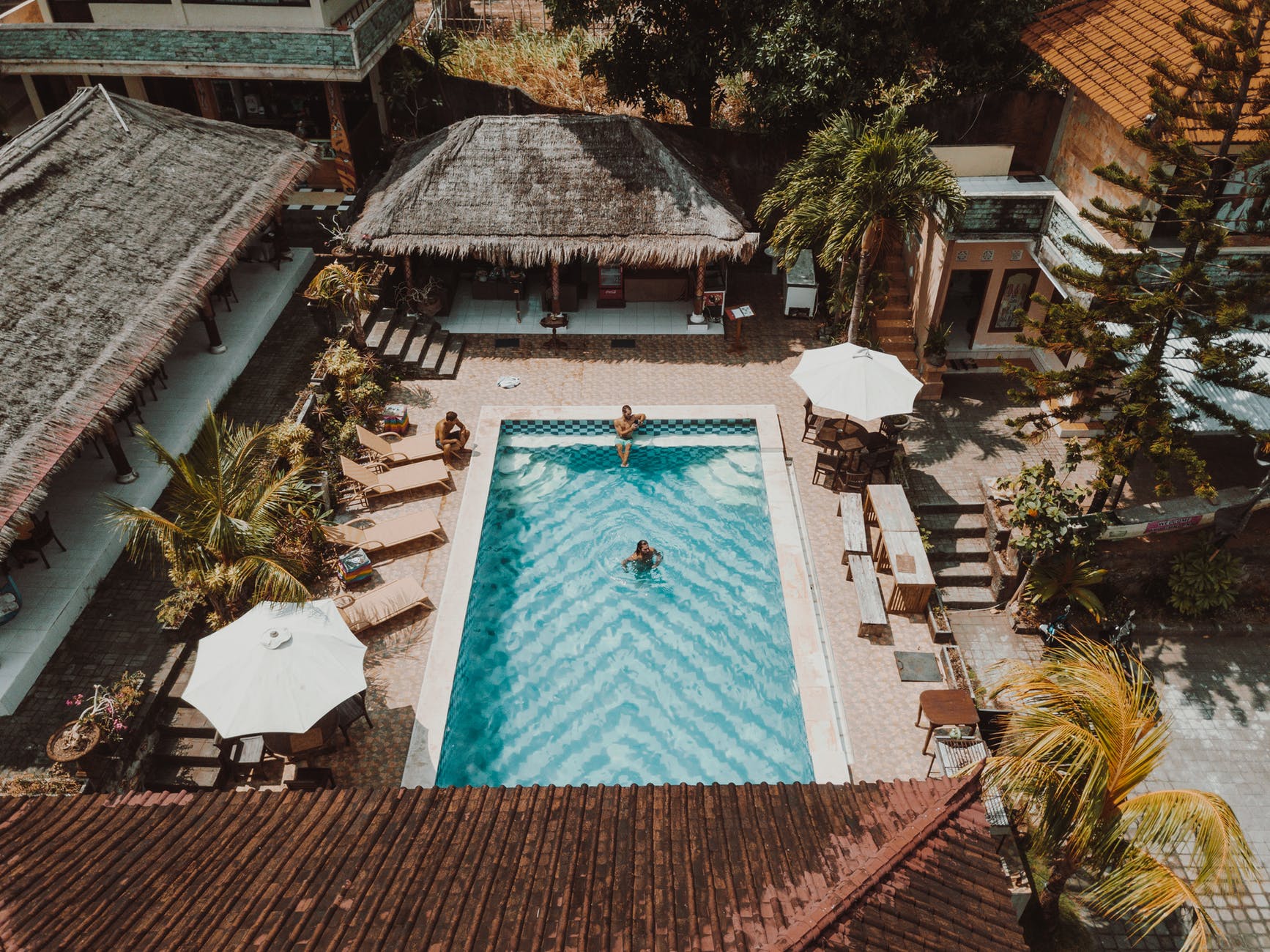 Types of Services We Offer?
Here at the specialty aquatic tile cleaning, we offer a wide range of pool cleaning services! I will first start off by telling you that a clean pool is a lot more enjoyable. When your pool is clean and everything is right, you can expect to swim with your eyes open and not worry!
Pool Tile Cleaning and Replacement
When you get your pool tile repaired or replaced by us, you can expect everything to look as good as new. We can help you if they're discolored as well!
Pool Makeover Special
Another service that we offer as well would be our pool makeover special. If your pool hasn't received the care and attention that it requires you can probably start to notice some discoloration going on. How we address this issue is first we have to completely drain the pool, followed by an acid wash to clean the plaster, and then lastly calcium removal on the tiles. But just like any other job, it all depends on the pool size!
Power Washing
The third most popular service that we offer would be power washing. When we power wash you can expect to have your deck completely clear of any old dirt marks. This is usually what people get as well as the pool makeover. These both go together really well, leaving your backyard as you could remember it years ago.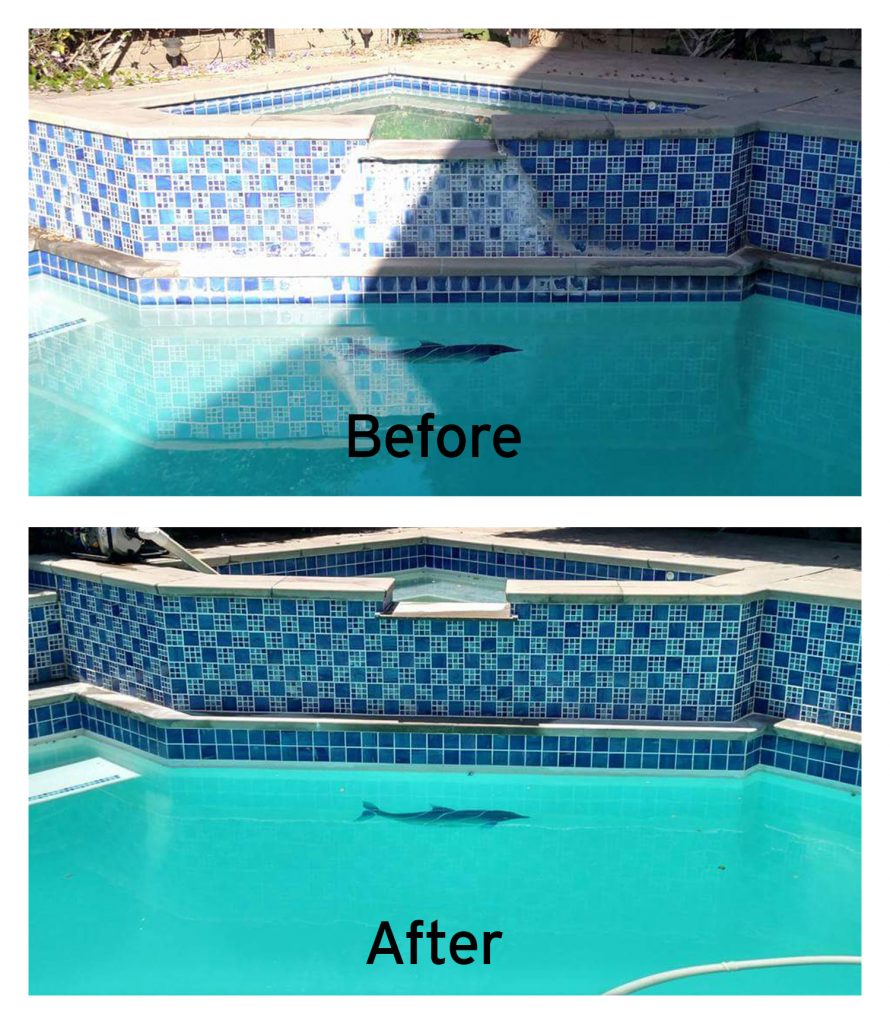 Many pool owners know that owning a pool can be difficult at first and very irritating. So why go through all of the problems that arise with pool owners when you could have a trusted company like specialty aquatic tile cleaning take care of it for you!
Here at specialty aquatic tile cleaning, we charge by the linear foot. In some cases very rarely though, it is by the square foot. Our goal is to satisfy our customers and demolish the competition. We offer free estimates to anyone within 35 miles of us. So why are you waiting?
Pick up the phone and call 626-275-8959 and get your free estimate!
Why Should You Work With a Pool Maintenance Professional?
There are several reasons why you should hire a professional to take care of your pool.
The first and most important reason is to maintain the chemical integrity of your pool water.
Chemically treating a swimming pool can be very frustrating for pool owners, at least if you want to maintain a level of quality!
In fact, this is a big reason why people prefer a professional review of their pool, as it can be confusing for someone who doesn't know what they are doing.
Most importantly, your swimming pool is a breeding ground for nasty little organisms. Proper chemical treatment can effectively treat water and ensure the health and well-being of your family.
The next big reason for hiring a pool maintenance professional is to properly maintain the pool equipment. Most owners are not good at mechanically and are a little intimidated by the pool equipment.
In addition, there are a large number of moving parts and if anything moved, it could drastically affect the normal operation of your pool and its filtration process.
A pool maintenance professional will not only keep your pool running smoothly, but will also use preventative maintenance techniques to save you time and money.
The last and most important reason to hire professionals is to enjoy your pool!
Pick up the phone and call 626-275-8959 and get your free estimate! Proudly taking care of Covina CA and all of its pool owners! Feel free to also give us a call with any other questions or concerns regarding your pool!