Calcium is great for your bones but not for your pool.
Here's why…
When calcium forms on your pool, an effect known as limescale, your pool can look unsightly and even be in danger.
If lime develops in your pool, you should hire pool maintenance professionals to inspect and clean up debris from its surfaces. Most pool cleaning services make a diagnosis for the localization, as well as the elimination of limescale.
If you want to do it yourself, read the rest of the article.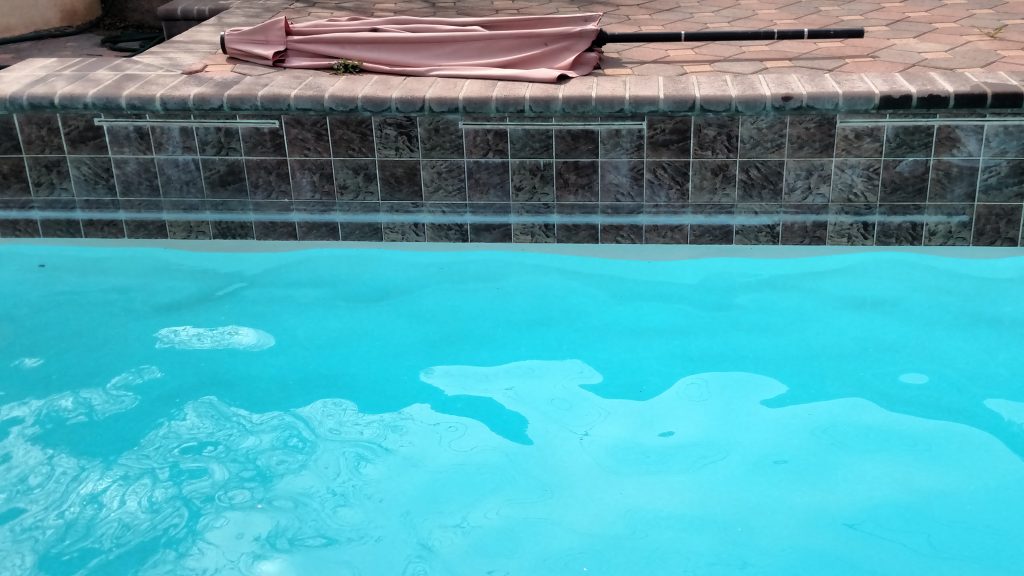 So how do you know if your pool contains lime deposits?
Look for white or light gray spots on the sides and bottom of the pool, as well as the edges of the pool deck. Limestone forms scaly spots or streaks when the pH of the pool water and the calcium levels in the water are out of balance.
Although this build-up of lime can be removed, it can be difficult to do so. This article provides homeowners with tips that any pool maintenance company wouldn't want you to know to remove lime deposits from the pool walls and prevent their return.
Lime stains in the pool
If you have ever noticed, you will have seen that there is a white line on the walls, at the height of the surface. This is caused by lime deposits.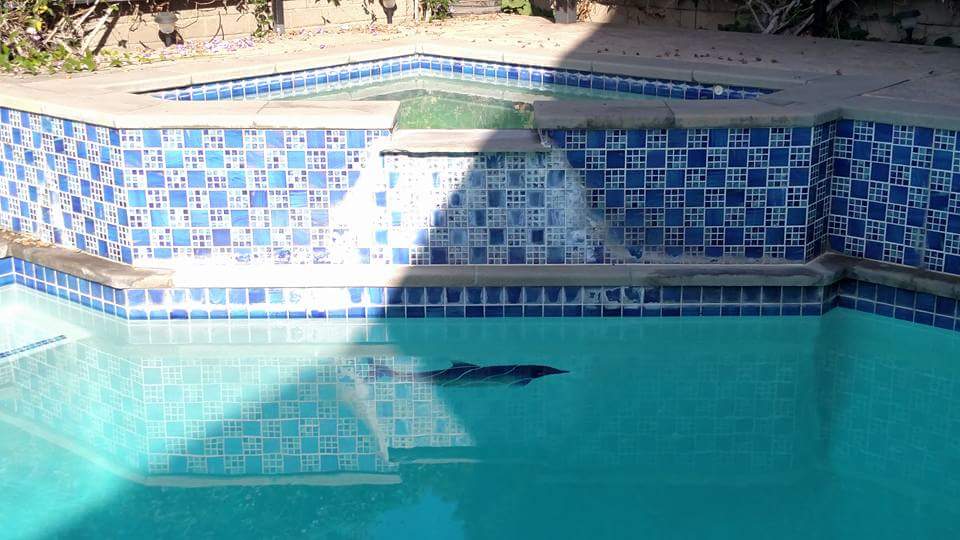 In pools with well water, these lime deposits form in a short time, and if they are not removed, the layer becomes thicker and difficult to clean.
Another problem is the roughness that is noticeable on the walls, when passing the hand the touch is rough.
Over time, this texture favors the accumulation of dirt and makes cleaning more difficult.
In addition, if you apply acid to dilute the lime, you are also diluting the cement in the joints, damaging the lining, until you have to empty the pool to repair it.
What if you use well water for your pool?
On many occasions, especially in pools installed in rural areas, there is no access to running water, so there is no choice but to use well water to fill the pool.
Well, I have a trick to remove lime from the pool with well water.
Well water treatment
This trick is not for everyone. It is not difficult to apply, but you have to be careful to follow the steps correctly.
If the pool is already affected by the remains of lime, you should lower the pH as much as possible, adding a lot of acid, or liquid pH-.
With a pH lower than 6, the lime will start to thin, but so will the cement joints.
It is VERY IMPORTANT that no one takes a bath during the process. The acidity of the water will be very aggressive for people.
After a few days in this state, empty the pool completely, clean the surfaces well with acid (better to use a specific liquid or pH reducer based on sulfuric acid, because hydrochloric acid or sulfonate emits a lot of vapors). Finally, you will have to re-grout (apply Borada or seal with cement) all the joints.
As you can see, it is slow and hard work, and it is better to do it out of season, to avoid the effects of heat on the empty pool.
With the pool empty, the next step is filling (you probably already guessed that).
Start filling it by adding shock bleach.
The well water contains a lot of organic matter, is very "alive", and then the plant matter, such as algae, begin to react to the light of the sun. Water can go bad in a matter of hours. Sometimes the same water is already green. Don't worry about adding more chlorine than necessary, while no one takes a bath.
How to purify well water
Now comes the secret.
Add flocculant to the water. Yes, it's that easy, but wait, this is just the beginning.
The flocculant causes all elements other than water to stick together, forming solid "flakes" (flocs) that settle to the bottom of the pool or remain stuck in the sand filter.
Be very careful not to overdo the dose of flocculant, because the sand can stick, and you will have to replace it.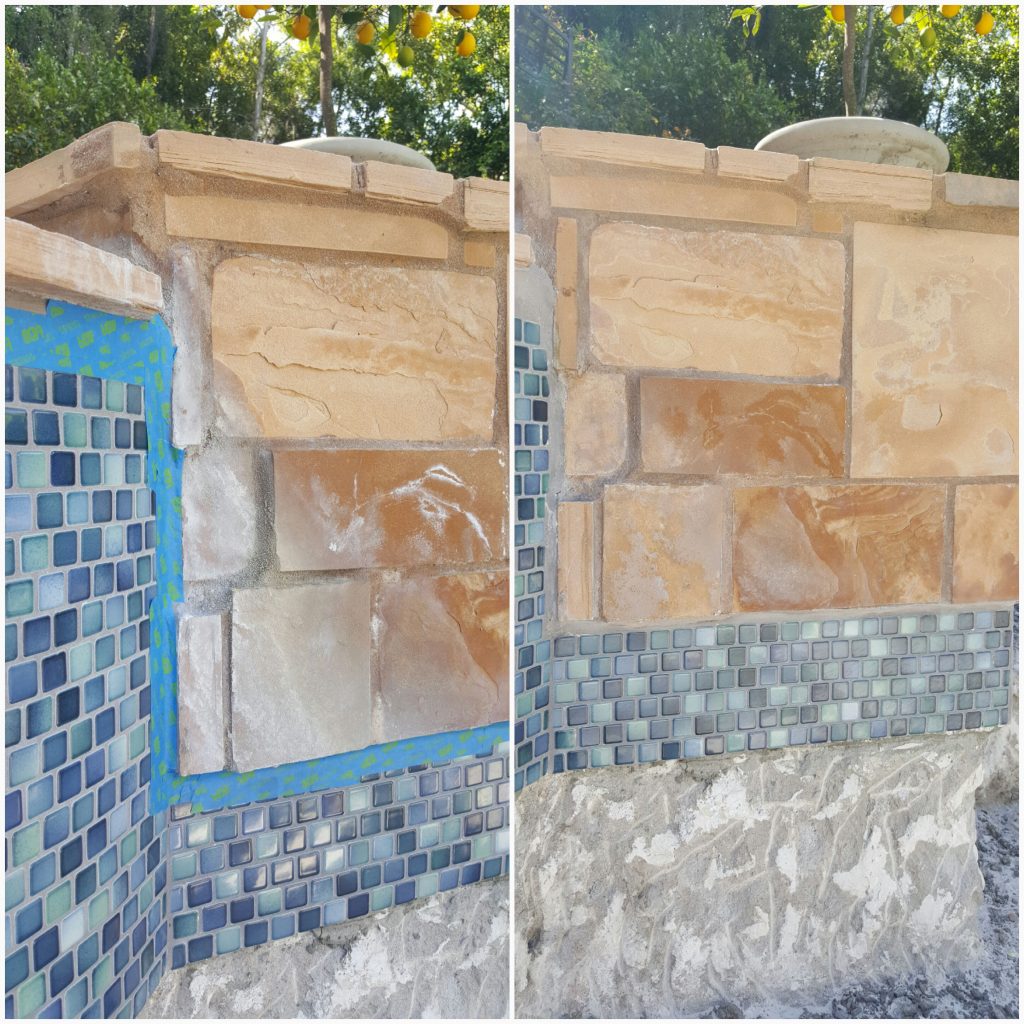 You will have to do sand washes every few hours so that the sediment is expelled.
These remains will include lime, algae, metals, and other elements.
The water will be practically pure. You will also have to help by sweeping the bottom so that the dirt does not stay there.
You can increase the effectiveness by adding a layer of diatomaceous earth, or diatomaceous sand over the filter sand, to retain a greater amount of debris.
Anyway, think that diatomite is difficult to find and somewhat expensive, so it is not necessary to use it unless you want to do a cleaning worthy of an operating room.
Most of it will go down the drain when doing a sand wash, so this is disposable.
The process time will depend on the type of water you are treating, so you will have to experiment and observe.
You can also repeat the process after a few days. However, it is better to do it before adding salt, in salt chlorination systems.
Types of Calcium that Leave Deposits
There are 2 common types of calcium that form lime in a pool: calcium carbonate and calcium silicate. It is important to understand which type harms the walls of your pool.
The calcium carbonate is white, scaly and easily detached. Calcium silicate is slightly gray and more solid, which makes it more difficult to remove.
If the walls of your pool contain calcium silicate, the scale on the walls of your pool is a symptom of a more serious problem: calcium scale in the plumbing and filtration system. This is a problem that only a professional pool maintenance company can deal with.
If you don't know what type you have on your pool, use a dropper to pour muriatic acid on the deposits. Calcium carbonate will foam in reaction to acids. Calcium silicate, being a more solid substance with robust construction, will remain unchanged.
Removing Calcium Carbonate
If your pool contains calcium carbonate, removing it is easy, but takes time.
You can use a rough but harmless object for tiles such as a wet pumice stone or an eraser to flake off deposits.
You can also get calcium descaling treatment solutions from a pool service company or a pool supply store. Follow the product instructions to avoid damaging the pool water or injuring yourself.
Removal of Calcium Silicate
Calcium silicate is incredibly difficult to remove on your own. You can try using a pumice stone, but it will take a ton of elbow grease and time to complete the process successfully.
If you have a vinyl or fiberglass pool, this will not work at all. Even some descaling treatments can take months to break down the lasting calcium silicate.
You will probably need to hire pool maintenance professionals to remove lime build-up if you cannot do it yourself. They can also adjust the quality of your pool water, including pH and calcium levels, to prevent future buildup.
Remove limestone with a blowtorch and a polishing machine
If you have emptied your pool to clean it and you notice traces of lime, there are two methods that can get rid of this debris. These methods are effective but can take a long time depending on the size of your pool.
To remove the lime that is in the walls of your pool, just use a blowtorch to make the tartar less robust and then rub it with a wire brush. With the effect of heat, the tartar will be easily removed.
If you have limestone at the bottom of the pool, simply clean the pool thoroughly with a vacuum cleaner, then sand it with a sanding and polishing machine.
Once descaling and polishing are finished, rinse your pool with a Karcher to remove debris. Then evacuate your pool, let it dry, and fill it again if you want to reuse it.
If you do not want to fill it immediately, choose a tarpaulin or a protective cover. Your pool will therefore remain intact and ready to be filled at any time you wish.
Good to know
The disadvantage of chlorine is that it makes no difference between organic impurities and the human body. The consequences after a long stay in the water are red eyes, caused by chlorine. This is the reason why most people wear swimming goggles.
Here's a video that summarizes all we've said: