Specialty aquatic tile cleaners are specially formulated cleaning products designed to effectively remove dirt, grime, algae, and other contaminants from tiles in aquatic environments such as swimming pools, spas, and water features. These cleaners are specifically tailored to tackle the unique challenges posed by water-based environments.
Specialty aquatic tile cleaners come in various forms, including liquids, gels, and powders. They are typically easy to apply, and some may require scrubbing or brushing to achieve optimal results. These cleaners are designed to be compatible with different types of tile materials commonly used in aquatic environments, such as ceramic, porcelain, stone, and glass.
Regular use of specialty aquatic tile cleaners can help maintain the cleanliness and aesthetic appeal of aquatic surfaces, ensuring they remain safe and enjoyable for swimmers and bathers. It is important to follow the manufacturer's instructions when using these cleaners to ensure their safe and effective application.
If you're looking to get a pool in California, then you likely know how rewarding an experience it can be, especially during the summertime. But before you dive into the world of California pool owners, there are a few things you need to know first. That is the enlightenment this article aims to grant you as a prospective pool owner.
Different types of pools in California
When it comes to owning a pool, there are several factors to consider before taking the plunge. To help you make an informed decision, this guide will provide an overview of the different types of pools common in California: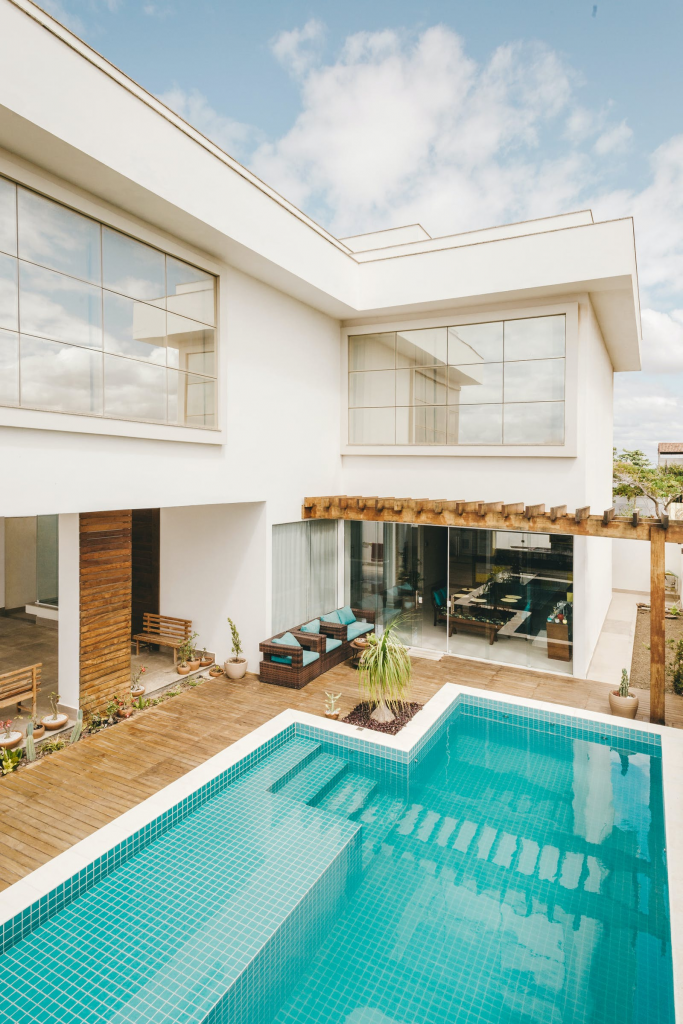 1. In-ground Pools
This kind of pool is the most popular option you'll find in California. They're usually made with concrete and come in a variety of shapes and sizes. In-ground pools can also be customized with a variety of tile designs and cool features like fountains, slides, and waterfalls.
You're not limited to concrete as a material to make your pools with, either. Some owners choose to get creative and opt for materials and designs like vinyl, fiberglass, or infinity edge design instead. Those that choose to go with concrete for their in-ground pool do have the option of various finishes like tile, stone, aggregate, or plaster.
2. Above-ground pools
As the name suggests, this type of pool is above ground, like a really big bucket. Also like a bucket, they come prepackaged, so all you have to do is assemble the components (it's easy to do, and instructions are in the manual). They come with their own liner as well so you can essentially start enjoying the pool right out of the box. On the downside, these pools aren't as customizable as in-ground pools and require regular maintenance to ensure their structural integrity and water quality.
When you get an above-ground pool, you get to choose from a range of sizes, shapes, colors, materials, and designs.
Types of above-ground pools
Inflatable pools: This type of above-ground pool consists of an inflatable inner structure with a vinyl or plastic covering. They are lightweight and portable and can be folded and stored away when not in use. However, it isn't perfect. these inflatable pools aren't very durable at all, and they also don't offer customization options since their dimensions are determined at the time of manufacture, and the walls are flimsy.
Framed pools: This type is composed of a frame made waterproof by the liner. pool consists of an inflatable inner structure with a vinyl or plastic covering. They are lightweight and portable and can be folded and stored away when not in use. They're more customizable than inflatables (though more expensive), so it's possible to expand should you want to in the future.
Different Types of Pool Tiles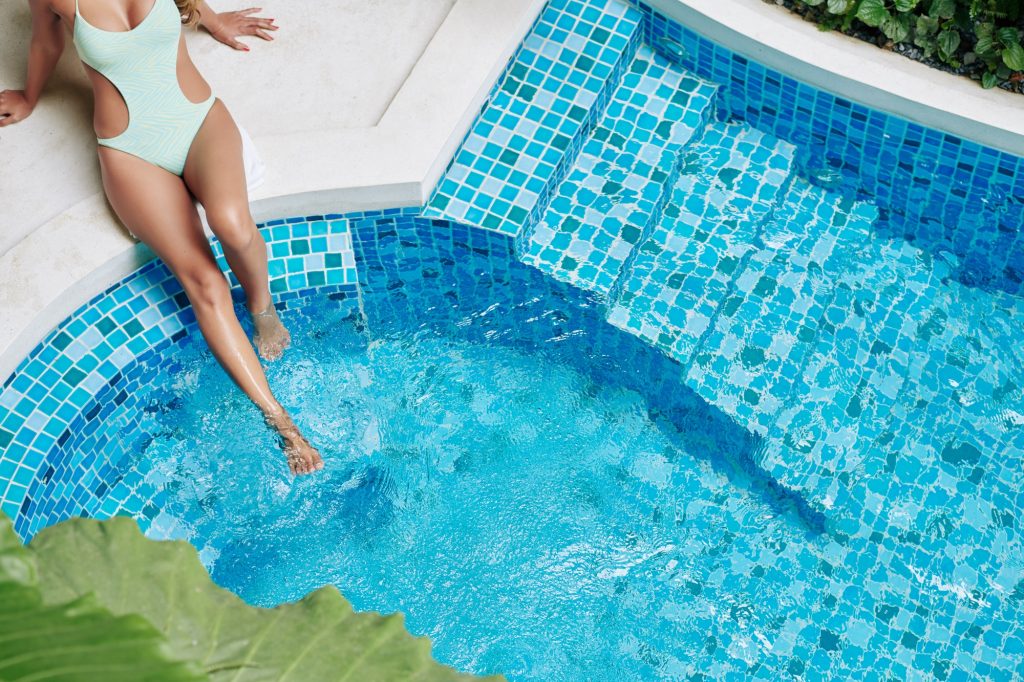 Pool tiles are placed around and in the swimming pool to make the area easier to clean and maintain, and also to add an elegant touch to the area. They come in a variety of colors, textures, patterns, and materials, each of which has its own unique set of advantages. Some of the most common types of pool tiles include:
Glass tiles: These pool tiles give the poolscape and water a beautiful reflective quality while providing non-slip surfaces.
Porcelain tiles: These are extremely durable and have a smooth shiny surface that nonetheless creates a slip-resistant effect. Of any material, glazed porcelain has the lowest water absorption rate.
Mosaic tiles: You can create a mosaic design by laying small, colorful pieces of glass, broken tiles, or stone together on a base such as cement to create a beautiful effect. There are tiles that have this design so you don't have to DIY your way to that beauty.
Brick tiles: These are tiles that have the appearance of bricks, made from ceramic or terracotta clay and often glazed for durability and water resistance.
Stone tiles: These tiles are made from marble, granite, or other stones. They are highly durable, attractive, and naturally resistant to water mold and mildew.
Pool Water Features
Adding a unique water feature to your pool can be a great way to set your pool apart from the rest and enhance the overall look of your backyard. Water features also provide the pool with functionalities that aren't otherwise available in a plain old pool. They typically include:
Fountains and spillways: Fountains provide a nice spray of water that creates a misty atmosphere and adds a touch of elegance to the pool. Spillways are slightly larger than fountains and they can be used to fill or empty the pool.
Deck Jets: These are thin streams of water that shoot up from the deck around the pool's edge and can create some cool sights when lighted up
Bubblers: This is a feature that, true to its name, produces a stream of air bubbles that rise from the pool surface and create a bubbly sensation throughout the pool. and a beautiful aesthetic.
Waterfalls: Pool waterfalls are perhaps one of the most popular water features that you can add to your pool. They come in a variety of styles and sizes, so you can choose something that fits your taste and budget. The beauty of a waterfall is that it adds an extra dimension to your pool, creating a soothing sound and a beautiful aesthetic.
Some other water features include:
Cascades
Slides
Water bowls
Laminars
Rain curtains
No matter which feature(s) you decide on, it's important to consult with an experienced professional who can help ensure you meet all the necessary safety requirements. By following these guidelines, you can make sure that your pool remains safe and enjoyable for years to come.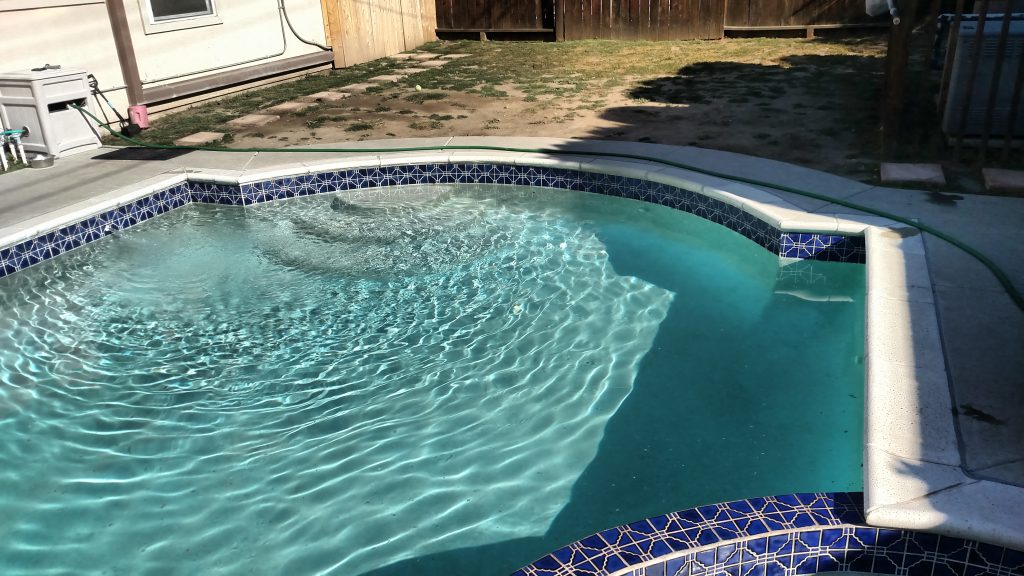 When you own a pool, keeping it clean and attractive becomes your main concern. A part of this involves taking good care of your pool tiles as they represent a major part of your pool's design. Some common enemies of your pool's beauty are:
Calcium build-up on the tiles
Algae in the water
Scales
Grime on the tiles
Fortunately, there are many products on the market that can help you keep your pool tiles clean. Depending on the type of tile you have and the type of impurity you're trying to get rid of, you'll want to get the right cleaning product. For ease of selection, here's a table to guide you:
Your Pool Tiles Can Have Better, Though
While these products are powerful cleaners on their own, they don't compare to the products and techniques available to professionals such as us, Specialty Aquatic Tile Cleaners. Not to mention, cleaning pool tiles is lengthy and tedious without the right equipment. That's where we come in to save the day.
If you want your pool tiles to attain the glory you deserve, you should get in contact with Specialty Aquatic Tile Cleaners to help you out. If you'd like to schedule regular cleaning sessions, that isn't a problem. You can get in contact with us any time of the year for a session or two and watch your pool tiles quickly regain their factory look.